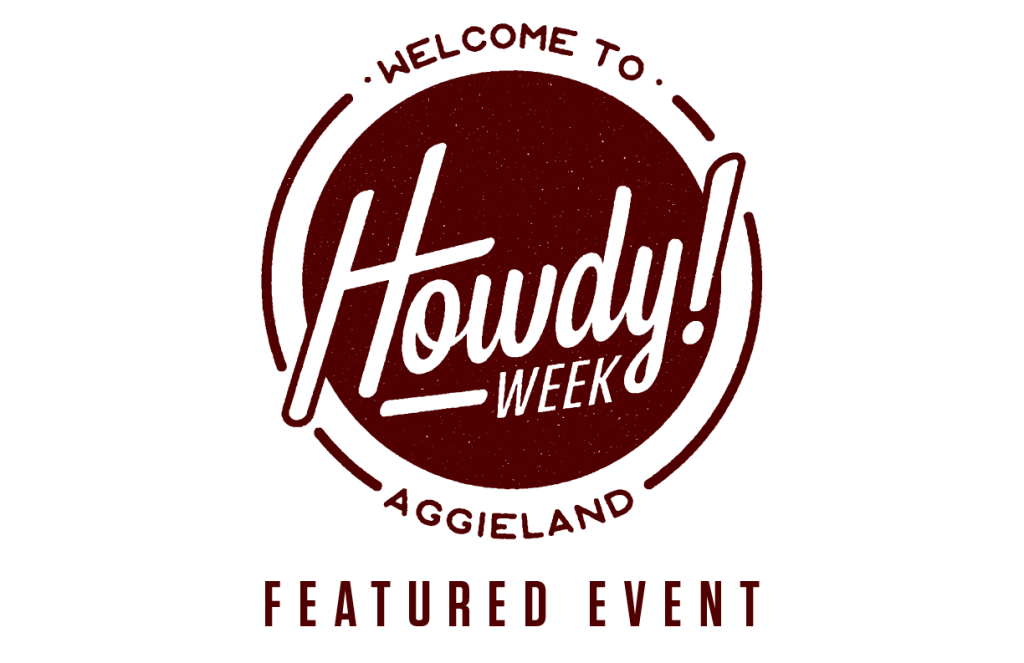 Featured events are long-standing , large-scale events that take place during Howdy Week in the fall. Featured events are sponsored by a University Office, Department or Sponsored Level Student Organizations as defined by Student Activities.
University Libraries Howdy Event
9:00 AM - 12:00 PM
Come learn about all the University Libraries has to offer and get your semester off to a great start.  Free t-shirts, prizes, and fun!
Late Night Carnival
10:00 PM - 12:00 AM
Kick off the semester right with our BIG Late Night Carnival! Come enjoy snow cones, funnel cakes, music, and more, plus enter to win some awesome prizes!
GatheRing & Yell Practice
5:30 PM - 8:30 PM
Join your classmates and start building your Aggie Network at GatheRing! There will be free food, the opportunity to try on an Aggie Ring, and the first official on-campus Yell Practice of the year!
Class Photo
9:00 PM - 11:00 PM
Calling the Class of 2025! Want to step out onto Kyle Field? Be a part of the Class of 2025 photo — wear your maroon class shirt, bring your student ID, and bring your spirit!
Ice Cream Carnival
11:00 AM - 1:00 PM
Join campus representatives to learn what Texas A&M has to offer while enjoying free ice cream, games, inflatables and giveaways!
AggieFest
4:00 PM - 6:00 PM
The Residential Housing Association (RHA) invites all on-campus residents to come socialize at a back-to-school picnic with free food, music, and free shirts! Stick around for Mock Room Burn during the later half of the event!
MSC Aggie Cinema Howdy Week
6:30 PM - 8:30 PM
Join MSC Aggie Cinema for our annual Howdy Week Movie Night in Rudder Auditorium featuring the newest Marvel feature film, Black Widow (2021)! Doors at 6 pm, movie starts at 6:30 pm. All attendees will be entered in a prize drawing for a portable mini projector, gift cards, and more!
Party on the Plaza
8:00 PM - 11:30 PM
Come to Party on the Plaza to enjoy free food and entertainment while you learn about MSC committees! Have fun, have a bite, make friends, and hear about leadership development opportunities.
StuAct Block Party
11:30 AM - 1:30 PM
Come party on the block with Student Activities and find out how to start your involvement experience at A&M! Enjoy service to the B/CS community through the Volunteer Opportunities Fair, as well as free food, live entertainment, games, fun giveaways, and visiting with student organization leaders.
Rec-A-Palooza
5:30 PM - 9:00 PM
Rec-A-Palooza is an interactive, free event that provides an opportunity for the Texas A&M community to explore ways to help create and maintain a healthy lifestyle. Various activities will be present at the event highlighting each area within the Department of Recreational Sports. Along with our partners, we will be providing food and swag on a first come, first serve basis. This year we will be offering two sessions: 5:30pm - 7:00pm & 7:30pm - 9:00pm. Registration will be required, visit recsports.tamu.edu/RecAPalooza for more details
Howdy Hour
12:00 PM - 5:00 PM
Visit these tables to learn more about student organizations, departments and campus resources and grab free giveaways.