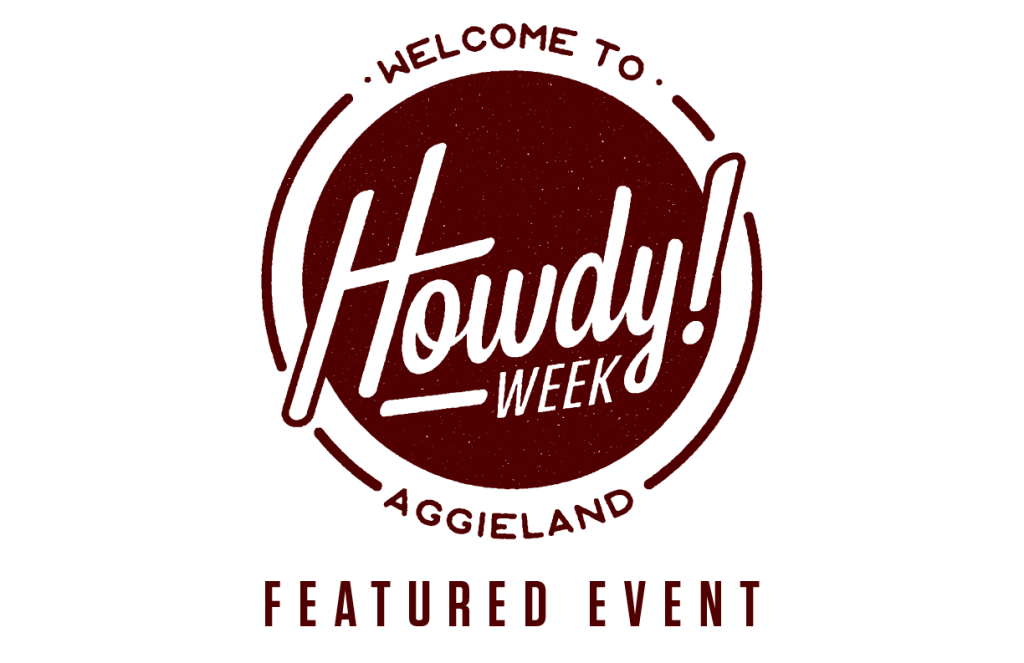 Featured events are long-standing , large-scale events that take place during Howdy Week. Featured events are sponsored by a University Office, Department or Sponsored Level Student Organizations as defined by Student Activities.
 All students must register for each event they wish to participate in and registration for events will open on August 1st. There is no cost to register for events, and you will need your UIN and TAMU email. Additional details and access information will be sent out one hour prior to the start of the event.
AggieFest
VIRTUAL
4:00 PM - 6:00 PM
Come and join the Residential Housing Association for our annual event, AggieFest, paired with Room Burn. Join us for some fun virtual activities that will help you get to know other Aggies and hear about how you can get involved with our student housing organizations! We will also be sharing a video of our Annual Dorm Room Burn with our university Safety Committee!
Register for this event (link coming soon!)
Aggie Network Trivia Night
VIRTUAL
7:30 PM
Join us online for our 2020 Aggie Network Trivia Night hosted by The Association of Former Students. Join your friends online to test your knowledge of our Aggie Network and enter for the chance to win a Aggie Ring scholarship. Have some fun and get to know how The Association supports your through your days in Aggieland, and after!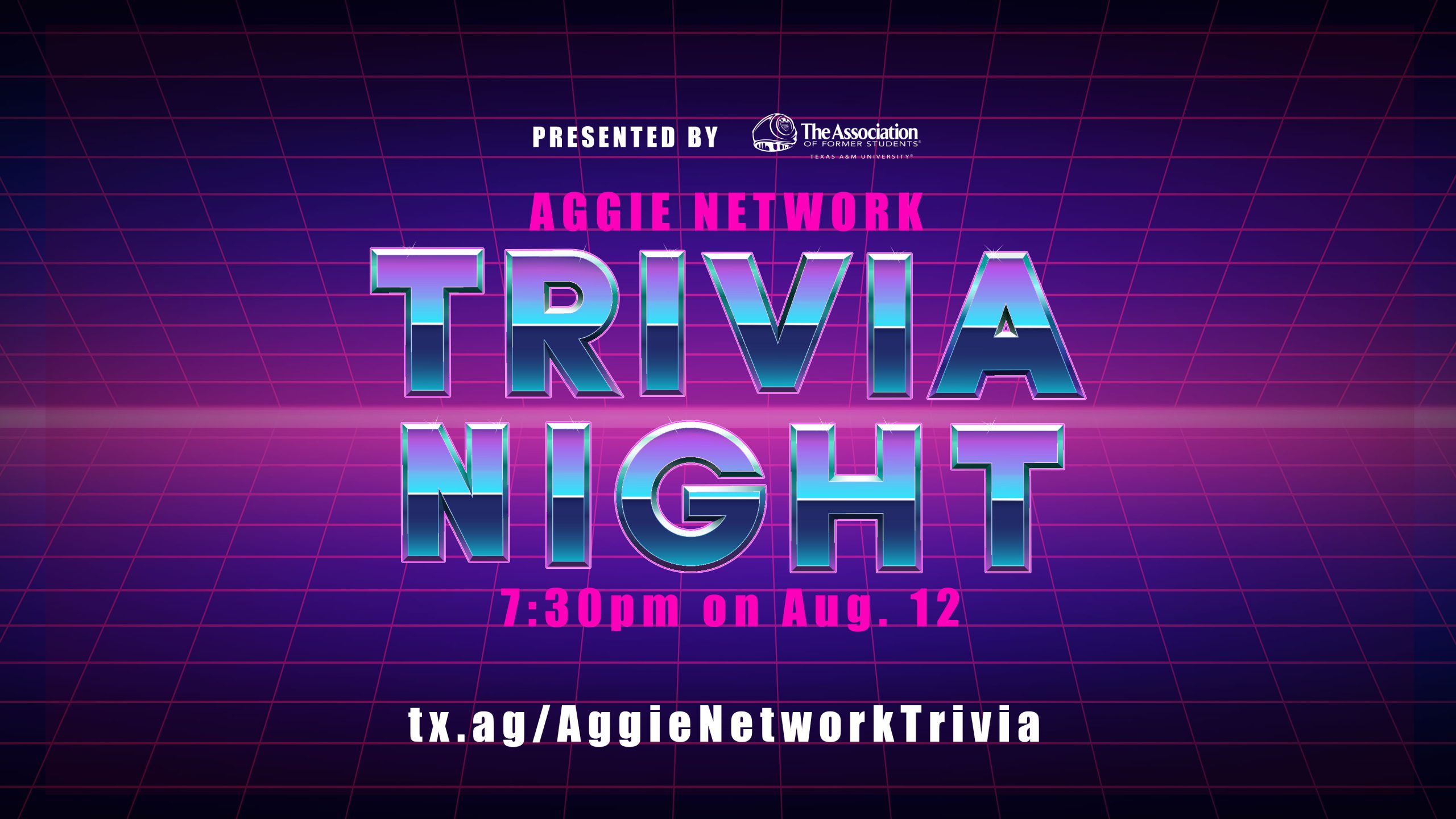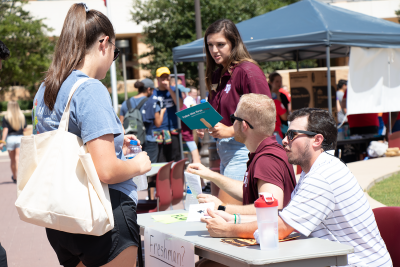 Virtual StuAct Block Party & Volunteer Opportunity Fair
VIRTUAL
1:00 - 3:00 PM
Complete entertainment, engagement, and giveaways, we welcome you to Student Activities (StuAct) Block Party where you can find information on how to get involved in our 1100+ student organizations. We'll also have some of our in-house student organizations and student leaders on hand representing the Student Government Association and its committees, Class Councils, and Fraternity and Sorority chapters, and so much more. In collaboration with the Volunteer Opportunities Fair, we will offer students the opportunity to learn about the different community agencies that are looking for volunteers.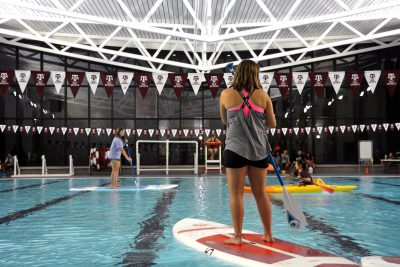 Rec-A-Palooza
VIRTUAL
5:00 PM - 7:00 PM
This year Rec-A-Palooza is going virtual! Join in the fun and explore ways you can create and maintain a healthy lifestyle, win prizes, and learn more about all that Rec Sports has to offer! Throughout this event you will be given the opportunity to do virtual workouts, interact with our sport clubs, take a tour of the Rec, watch demos on how to cook healthy meals while on a budget, learn about Rec jobs, and much more! Visit tx.ag/RecAPalooza for more details!
MSC Aggie Tradition Bingo
VIRTUAL
5:00 PM - 7:00 PM
Join the MSC for an evening of BINGO and BIG prizes! Patricipants must register by August 17 at 12 pm for BINGO cards. Bring your knowledge of Texas A&M traditions to the virtual event, this is not your traditional game of BINGO. Each BINGO round will have multiple prize winners! Prizes include multiples of these items- 60+in TV, Nintendo Switch, Apple Watch, Air Pods, Bluetooth Speaker, Roku Ultra Bundle.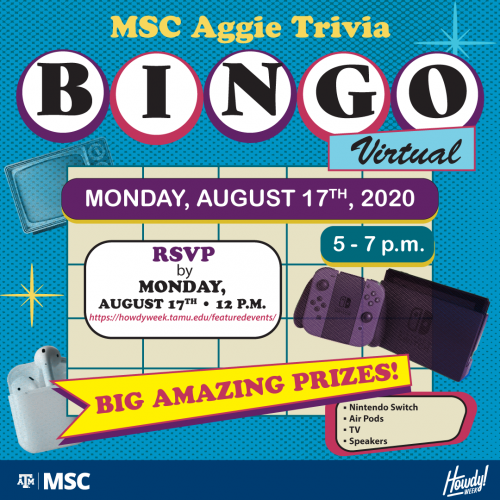 MSC Aggie Cinema Movie Night
VIRTUAL
7:00 pm - 9:00 pm
MSC Aggie Cinema will be hosting a virtual night at the movies featuring Parasite! Join us for a fun-filled event and stay tuned after the movie for chances to win prizes like a mini projector, bluetooth speaker, gaming gift cards and more. Attendees must register at bit.ly/MSCMovie August 17 at 12 pm to receive the event link!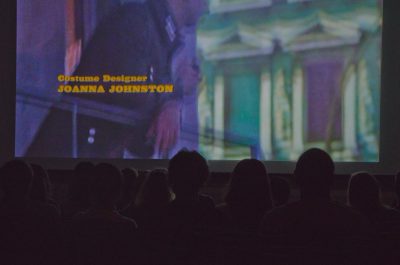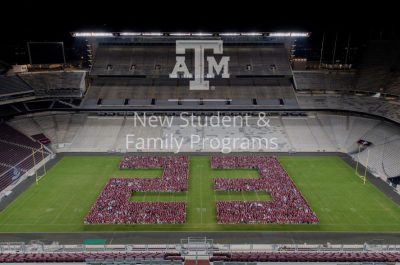 Class of 2024 Photo
Monday, August 10-Tuesday, August 18
VIRTUAL
Calling the Class of 2024! Be a part of the Class of 2024 photo mosaic during Howdy Week. Submit a photo of yourself at the link below or on Instagram or Twitter using #TAMU24photos to see your photo and thousands of others get added live to the mosaic throughout the week. The completed mosaic will be shared during the first week of classes, so be sure to follow us on Instagram, Twitter, and Facebook to see the final product!
Ice Cream Carnival
VIRTUAL
Monday, August 17-Tuesday, August 18
11:00 AM - 1:00 PM
Learn more about campus resources and offices available to support you as a student at Texas A&M. Participate in a live Q&A session for a chance to win a pair of Powerbeats from 12th Man Technology, a $50 gift card to the Texas A&M Barnes & Noble bookstore, or a goodie bag!
Link coming soon!